Originally published at: https://www.spreadshop.com/blog/2020/02/05/control-your-prices-drive-your-sales/


March 2nd is the day! The new commission model gives you even more control over your Shop and your earnings to help you make more sales.
Let's be honest: Could you explain how our commission model works? What about the design price, affiliate commission and volume commission? No? Then we have good news for you. We're launching a much simpler and more user-friendly commission model for your Spreadshops that can help drive sales.
What's so great about the new commission model? Here are some of its most important features:
You control your prices
Exciting new products
Clear & simple commission model
Let's have a look at what's changed for your Shop.
You Control Your Prices
Time to kiss the design price goodbye.
Until now, you've always set a separate design price for each design. Your commission was defined by the design, not by the product. We're turning this logic around. Now you set the retail prices for your products yourself. You decide how much to charge your customers. You control your cut. The design price will no longer be available in your Spreadshop. Your commission will simply be the difference between the retail price and the base price: your margin.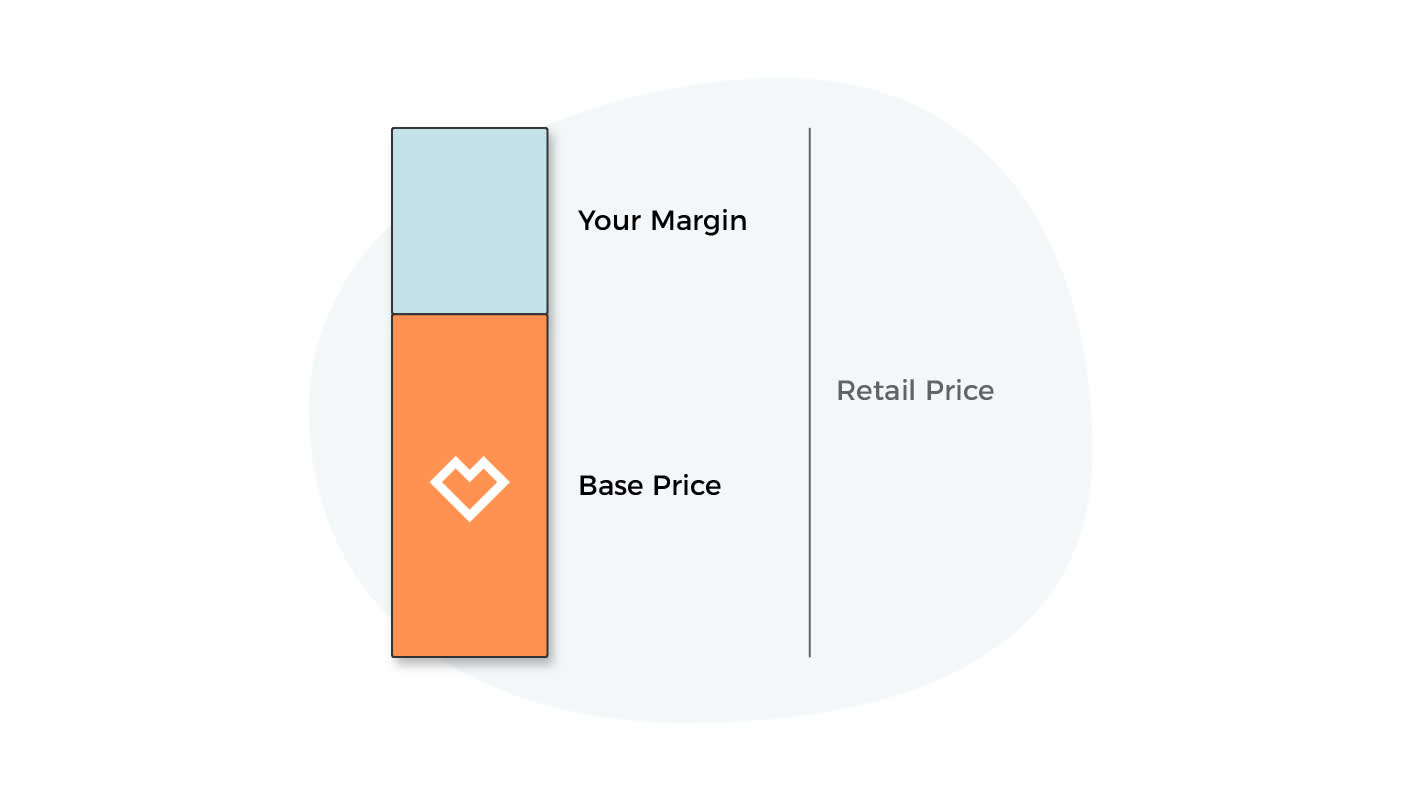 Exciting new products
Our old design price system was too inflexible for us to carry inexpensive products in our assortment.
Once you set your design price, it applied to all products equally—whether they were buttons, basic T-shirts or high-quality premium hoodies. Under that model, we saw lower-priced products, such as buttons or mousepads, becoming too expensive to drive sales.
We want you to be able to offer more of these inexpensive products in your Shop. And that means it's time to say goodbye to the fixed design price.
Nobody knows your customers better than you. The new commission model allows you to choose the best prices for your Shop and your customers: lucrative for you, attractive for your customers. At the same time, you'll get to offer your customers a more exciting product range, including new items such as stickers.
Clear & simple commission model
You will no longer define your commission through the design price, but rather the retail price of your products. Your margin is the difference between the base price and the retail price. This makes pricing in your Shop much clearer and easier to understand, because you decide what your customers pay and what you earn off the sale of each product type.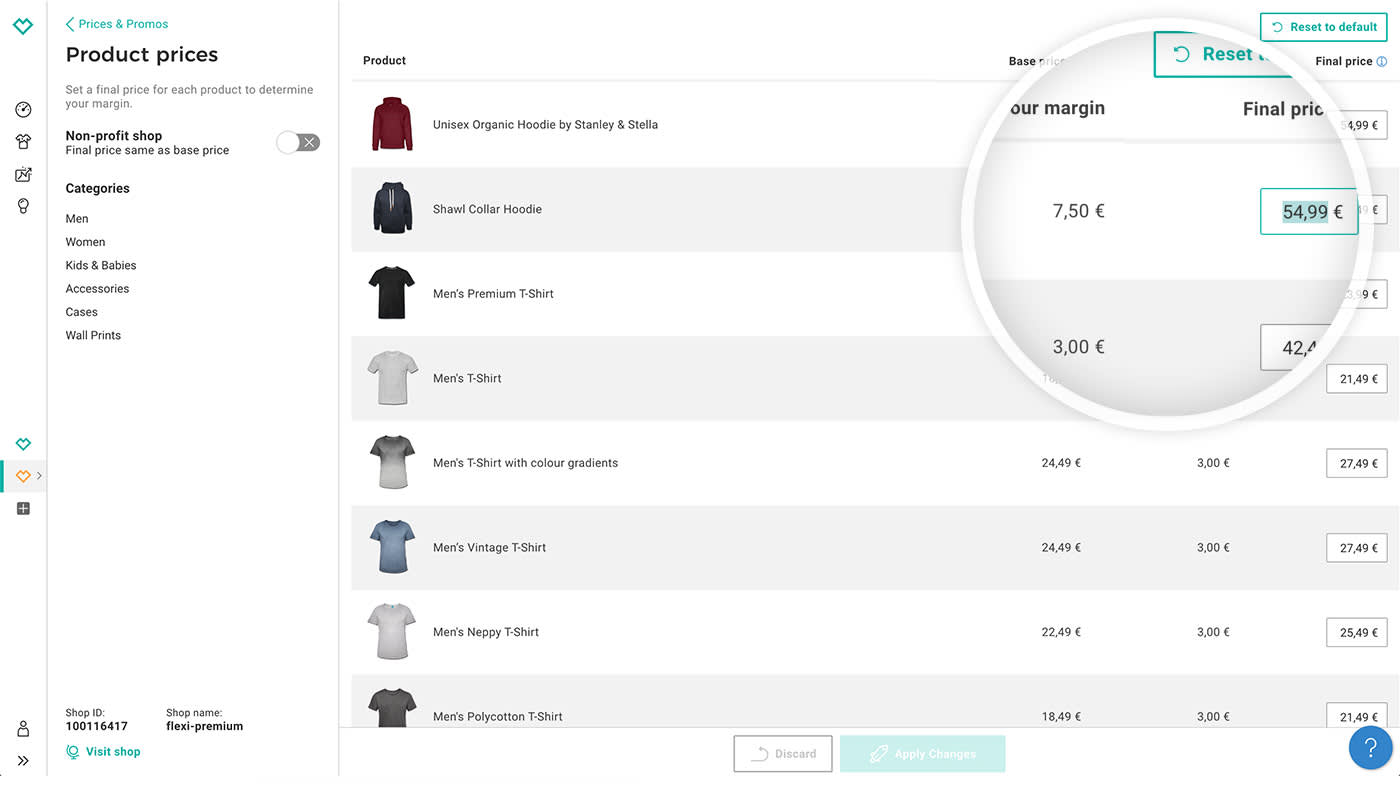 This also opens up your Shop to inexpensive products whose low prices will help attract customers to your Shop – for example, a basic T-shirt for less than $20. At the same time, you can set a higher price for other products and increase your margin – regardless of the design.
In short: You now have full control over your profits and prices.
Flexible promos
Under the new commission model, you also have more control over the discount promotions and marketing in your Shop.
There will be up to two promotions every month. You decide if and when the promo starts. With the release of the new commission model, you choose the promo start date within 30 days yourself.
For example: Let's say your Shop is all about cat memes. World Cat Day on August 8, 2020 would be the perfect day to start an advertising campaign. With new, flexible promos, you can strategically plan your promos around World Cat Day, advertise on your social networks and increase your sales.
Spreadshop pays the "free shipping" promo completely out of its own pocket. It has no influence on your earnings.
For all other promotions, we share the costs. You pay your share out of your margin. Spreadshop pays its share out of the base price. So for example, a 15% discount would reduce your margin by 15% for every item sold during the promotion period. Spreadshop will waive 15% of the base price for all of those sales as well.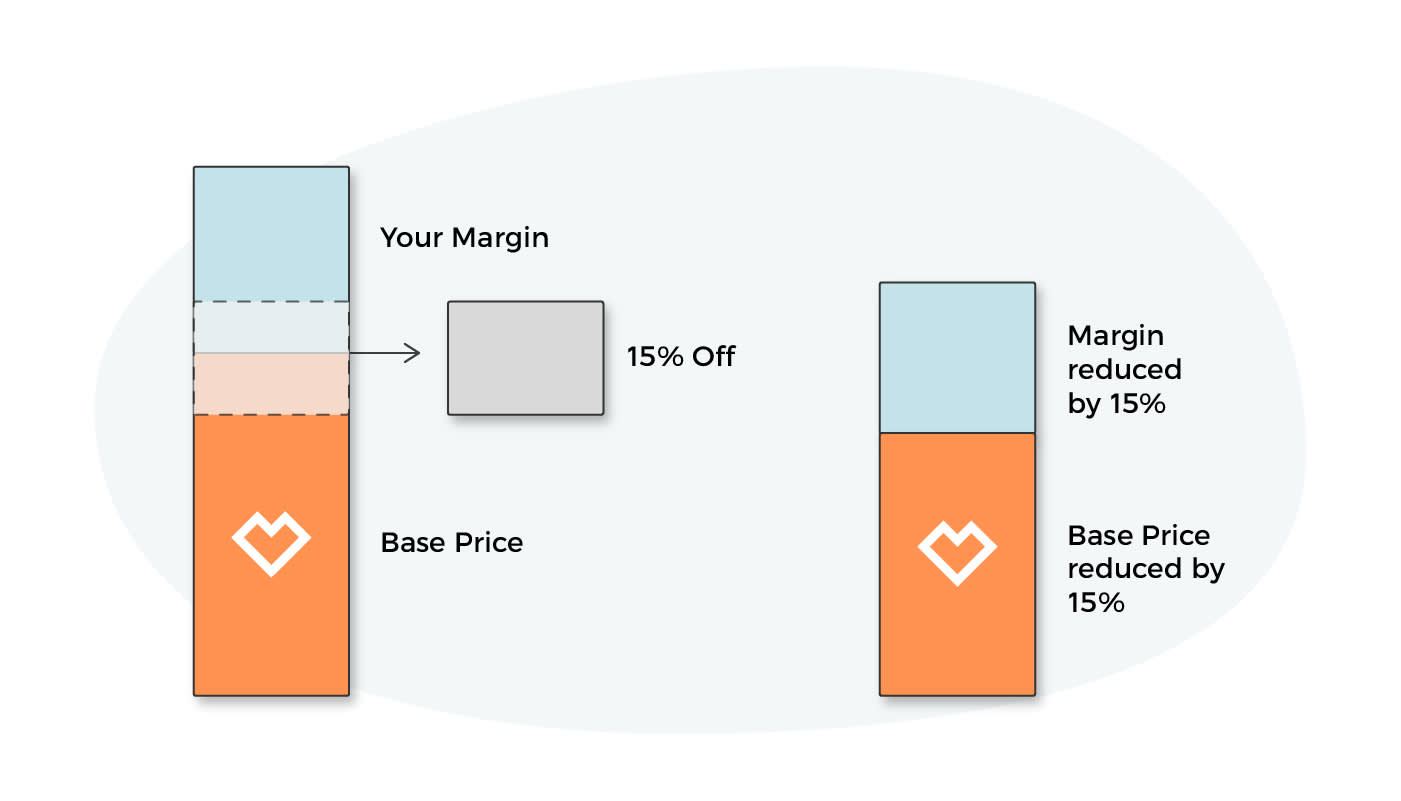 Simplified printing costs
With the introduction of the new commission model, it will be easier and cheaper to place additional designs and text on a print area.
The base price includes printing costs for one print area. If you or your customers add additional printing areas, the customer will pay an extra $/€4.50 (6 CAD/7.50 AUD) per print area. This does not change your margin or the cost of the promos. We only charge for the number of print areas used, not for the number of designs on a single print area.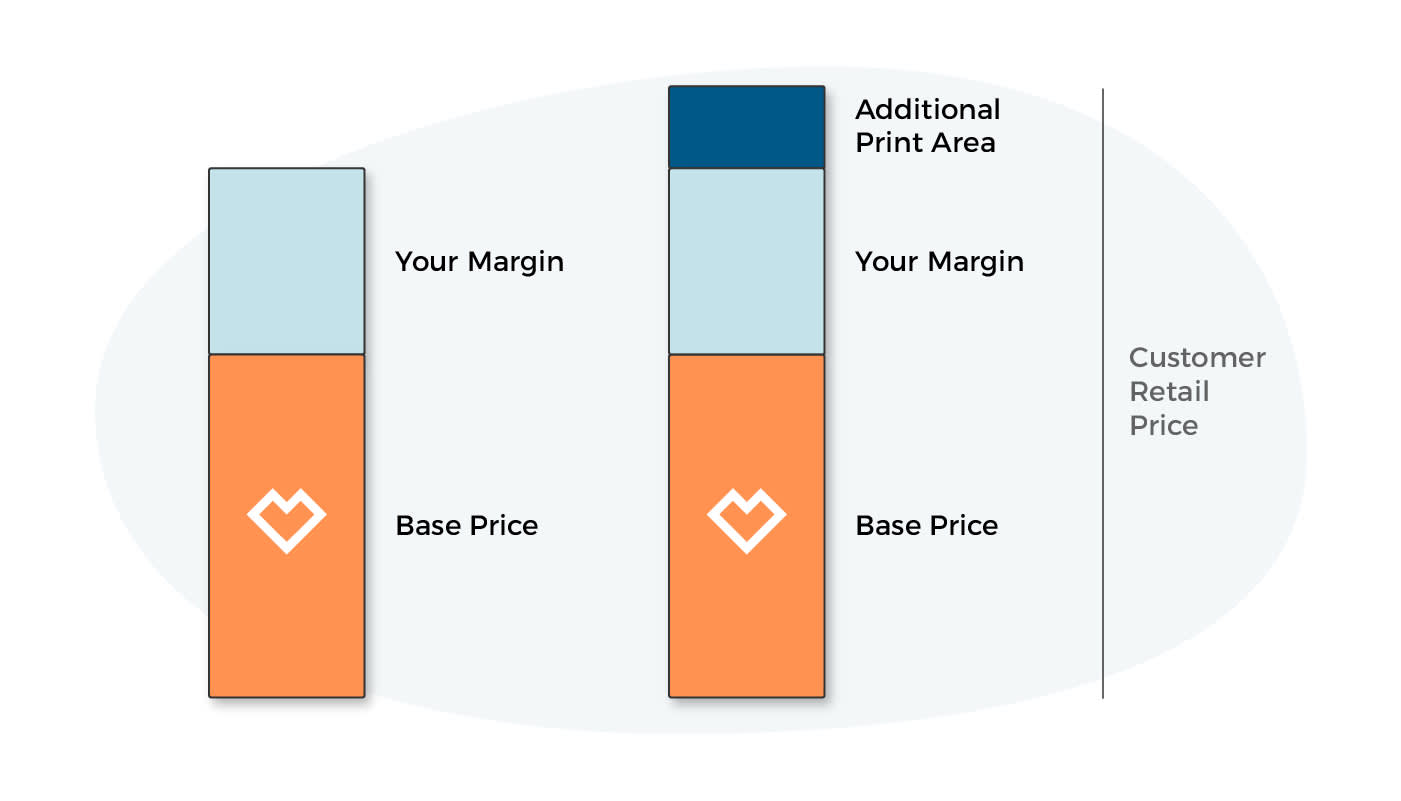 The only exception: if your customers use community designs in your Shop's Customize Tool, the costs for those designs will be added to the retail price. This won't impact your margin.
Sell more to earn more
Get rewarded for your hard work!
The more you sell through your Shops in a given calendar month, the more we reduce the base price for that month retroactively. This rewards you for your sales volume by automatically increasing your margin. This Performance Bonus is calculated retroactively per account for each calendar month. Find out more about the sales volume tiers for base price reduction and how billing works in this article.
What happens next?
You can already start setting the retail prices for all your products in your Partner Area. Go to Shop Settings > Prices & Promos > Retail Prices. You'll find our suggested retail prices already listed, but you can adjust them as you see fit. You are completely free to set your own prices and define your margins. Take a look at the new prices right away, make adjustments and familiarize yourself with the new commission model. On March 2nd, the adjusted retail prices will go live. You can change these at any time and as often as you like.
Our General Terms and Conditions are also changing to reflect the new commission model (US, CA, UK, IE). We will inform you about the new T&Cs via e-mail. You don't have to do anything to accept the new T&Cs.
For any further questions you may have about the new commission model, we've put together a detailed FAQ for you.
Adjust Product Prices on the North American Platform
Adjust Product Prices on the European Platform
You sell in the Marketplace, too? Then we have further information for you here.
Please refer to these blogposts for any other languages/locales:
Links for EU platform:
CH-FR: https://www.spreadshop.com/fr/blog/2020/02/05/maitrisez-vos-prix-avec-le-nouveau-systeme-de-retribution
CH-DE: https://www.spreadshop.com/de/blog/2020/02/05/mehr-kontrolle-fuer-deinen-shop
CH-IT: https://www.spreadshop.com/blog/maggiore-autonomia-e-piu-vendite
DE: https://www.spreadshop.com/de/blog/2020/02/05/mehr-kontrolle-fuer-deinen-shop
AT: https://www.spreadshop.com/de/blog/2020/02/05/mehr-kontrolle-fuer-deinen-shop
BE-FR: https://www.spreadshop.com/fr/blog/2020/02/05/maitrisez-vos-prix-avec-le-nouveau-systeme-de-retribution
BE-NL: https://www.spreadshop.com/blog/meer-controle-voor-je-shop
FR: https://www.spreadshop.com/fr/blog/2020/02/05/maitrisez-vos-prix-avec-le-nouveau-systeme-de-retribution
NL: https://www.spreadshop.com/blog/meer-controle-voor-je-shop
IE: https://www.spreadshop.com/blog/2020/02/05/control-your-prices-drive-your-sales
UK: https://www.spreadshop.com/blog/2020/02/05/control-your-prices-drive-your-sales
NO: https://www.spreadshop.com/blog/bedre-kontroll-over-butikken-din
SV: https://www.spreadshop.com/blog/mer-kontroll-for-din-butik
FI: https://www.spreadshop.com/blog/hinnat-haltuun-myynnit-nousuun
DK: https://www.spreadshop.com/blog/mere-kontrol-med-din-shop-og-oget-salg
PL: https://www.spreadshop.com/blog/masz-wieksza-kontrole-nad-swoim-sklepem
ES: https://www.spreadshop.com/blog/mas-control-para-tu-tienda
IT: https://www.spreadshop.com/blog/maggiore-autonomia-e-piu-vendite
Links for NA platform:
CA-FR: https://www.spreadshop.com/blog/maitrise-tes-prix-avec-le-nouveau-systeme-de-retribution
CA-EN: https://www.spreadshop.com/blog/2020/02/05/control-your-prices-drive-your-sales
US: https://www.spreadshop.com/blog/2020/02/05/control-your-prices-drive-your-sales
AUS: https://www.spreadshop.com/blog/2020/02/05/control-your-prices-drive-your-sales
You'll also find all the prices lists here:
Links for EU platform:
CH-FR: Prices FR CHF - Google Sheets
CH-DE: https://docs.google.com/spreadsheets/d/1eO5ykSbKidD4f9js1z4jEM20bXcc0Wdq6HavxiYRd8g/edit?usp=sharing
CH-IT: Prices IT CHF - Google Sheets
DE/AT: https://docs.google.com/spreadsheets/d/15FEooTaDTcdoU4YW3tA10eMTEXHTNKkrCwlH2kmjXC8/edit?usp=sharing
FR/BE-FR: https://docs.google.com/spreadsheets/d/1BaKjf5Ml72rSHuih3tCXmrSaF8oudGc6RMeivPrVbGM/edit?usp=sharing
NL/BE-NL: Prices NL EUR - Google Sheets
EU/IE: Base Prices European Platform - Google Sheets
UK: Prices GBP - Google Sheets
NO: Prices NOK - Google Sheets
SV: Prices SEK - Google Sheets
FI: Prices FI EUR - Google Sheets
DK: Prices DKK - Google Sheets
PL: Prices PLN - Google Sheets
ES: Prices ES EUR - Google Sheets
IT: Prices IT EUR - Google Sheets
Links for NA platform:
CA-FR: Prices FR CAD - Google Sheets
CA-EN: Prices EN CAD - Google Sheets
US: Base Prices North American & Oceania Platform - Google Sheets
AUS: Prices AUD - Google Sheets